Hi! It's Meghan back from
Cupcakes with Sprinkles
!! How was your Thanksgiving?! Ours was awesome! Yummy food, lots of family, and games galore! But now I'm excited for Christmas and I think these red velvet brownies are so festive, mainly because they're red. But I love me some red velvet so any excuse really. These are sweet, rich, and chewy. Perfect for neighbor holiday treats or for that Christmas party you're excited about! Get ready cause its so easy…
We don't need a lot, so gather them up…
In a small bowl combine the cocoa, food coloring, and vanilla…
In a large bowl combine the butter and sugar and beat until light and fluffy. Add the eggs one at a time, mixing well after each addition, then mix in the remaining teaspoon of vanilla…
Add the cocoa mixture and beat until the color is uniform. Then add in the flour and salt and mix until just combined…
Spread into your baking pan and bake for about 35-40 minutes. Let cool, cut, and serve!
Red Velvet Brownies
Recipe Source: Smells-Like-Home.com
3 Tablespoons Cocoa Powder
1oz Red Food Coloring
2 teaspoon Pure Vanilla Extract, divided
1/2 cup Unsalted Butter, room temp
1 1/2 cups Granulated Sugar
2 large Eggs, room temperature
1 1/4 cups All-Purpose Flour
1/4 teaspoon Salt
1. Preheat the oven to 350 degrees. Prepare an 8″ square pan with baking spray.
2. In a small bowl, combine the cocoa powder, food coloring, and 1 teaspoon of the vanilla. Mix until its a thick paste with no lumps.
3. In the bowl of a stand mixer, beat the butter and sugar on medium, until light and fluffy, about 2 minutes. Add the eggs one at a time, mixing well after each addition, then mix in the remaining teaspoon of vanilla. Add in the cocoa mixture and turn the mixer to medium and beat until uniform in color. Slowly add in the flour and salt and mix on low speed, until combined. Do not overmix.
4. Remove the bowl and stir with a wooden spoon a couple of times making sure the flour is incorporated.
5. Spread the batter into the prepared pan and bake for 35-40 minutes or until a toothpick comes out clean. Allow brownies to completely cool in the pan on a baking rack, about an hour. Remove from the pan. Cut and serve.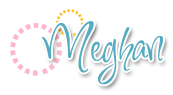 And here's another DELICIOUS holiday treat that Meghan shared last holiday season!
I've compiled a page with all Meghan's recipes in one place for easy searching! Come check out all the AMAZING desserts she's shared here at S & E right here!